The College is proud of its high dress standard and emphasis on personal appearance. Students are encouraged to take pride in their uniform and strive for high standards of grooming and presentation.
As part of our foundation of tolerance and acceptance we are an inclusive school – inclusive of religious and non-religious backgrounds, sexualities and genders. This means in our Secondary School we have non-gendered uniform items to support those young people who may be developing an understanding of who they are in the world.
Full details of uniform regulations can be found in the Parent Handbook.
The College partners with The School Locker for new school uniforms and uniforms are available from The School Locker's retail store and online.

TLCCA Second Hand Uniform Shop
Uniforms are available from The School Locker's retail store and online.
The School Locker is local and located at Shop 9A, 4-6 Burke Street, North Lakes.
The School Locker operates 6 days per week;
Monday to Friday 8:30am to 5:00pm
Saturday 9:00am to 3:00pm
The School Locker offers the convenience of online ordering with store pick up or home delivery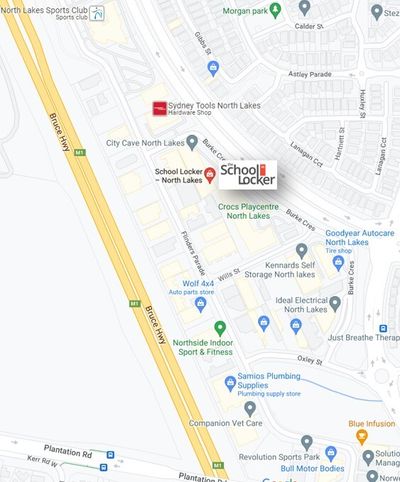 The School Locker offer an additional range of items including school shoes, sports equipment, technology, stationery, musical instruments and accessories.
All students are eligible for a Student Advantage Membership which qualifies students for discounted educational pricing on technology and product specials. This new arrangement will provide parents and carers with additional flexibility and convenience.
Please click here for further information and to setup your Student Advantage Membership.
Visit www.theschoollocker.com.au for further details.

TLCCA Second Hand Uniform Shop
Our TLCCA, both as a service to the school community and as a fundraising venture, operate the Second Hand Uniform Shop which is located within the College campus. The Second Hand Uniform Shop offers families the opportunity to buy and sell second hand uniform items in good condition for half the price of new items. Families may wish to donate items for sale with all profits going to the TLCCA or choose to earn 50% commission on items once those items have been sold. All money raised by TLCCA will go towards funding project initiatives for the College.
Second Hand Uniform Shop Hours (during School Term)
Monday - Friday 8:00am - 9:00am
Tuesday 2:30pm - 3:45pm
2024 January Holiday Additional Hours:

Monday 15 January - 9:00am - 12:00pm
Tuesday 16 January - 12:00pm - 3:00pm
Wednesday 17 January - 9:00am - 12:00pm
Thursday 18 January - 12:00pm - 3:00pm
Friday 19 January - 9:00am - 2:00pm
LOCATION
The Shop is located in the white building in Car Park 1 (top car park) off College Street.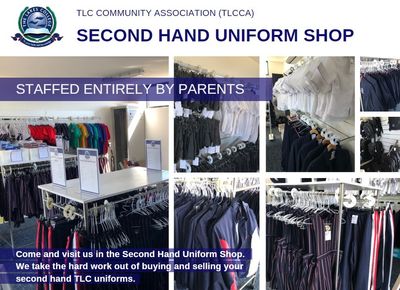 If you wish to donate or sell items, please be aware of the following:
The TLCCA will not pay upfront for uniform donations
Please ensure all items are washed/dry-cleaned and in good condition (no tears, no stains, not faded, no broken zips, name labels removed, etc)
Bring items into the uniform stall collection days as advertised throughout the year
We will hold items on consignment for two years or until sold. Unsold items may be donated to charity, passed onto the sick bay or College Care or disposed of appropriately
No names will be kept on the items. A unique ID number will be used to track your items
Socks, tights and swimwear are not for resale
No accounts, holds or lay-bys
Item exchange is available if the wrong size was selected, in which case an exchange for the relevant size is permitted, if available. If the correct size is not available, the item can be returned in accordance with the returns policy
Returns are only available within 24 hours of purchase and will attract a 5% handling fee
There will be no negotiation or "special deals"
Only cash, credit and debit cards are accepted
We reserve the right to deem the goods donated unfit for resale
Items for sale will only be accepted with a fully complete Second Hand Uniforms sale form attached

N.B. It is within the Second Hand Uniform Shop Manager's discretion to display the donated uniform items for sale or, if they do not meet the required standard of quality, to donate items to be distributed to off-shore communities in need.
FOR FURTHER INFORMATION

Contact our parent volunteer and Second Hand Uniform Shop Manager, Renee Cairns-O'Neill on email: tlcca2ndhanduniform@thelakes.qld.edu.au
Find out more about our TLCCA (TLC Community Association) by clicking here.